La villa Noailles seen by Hyères en Photos et Hyères en Croquis et Dessins
from 30 March to 28 May 2023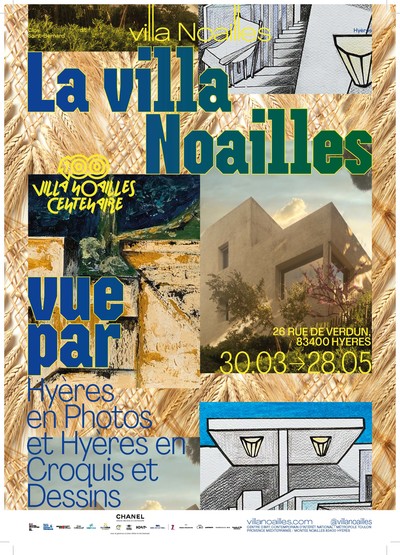 La villa Noailles seen by Hyères en Photos et Hyères en Croquis et Dessins
To continue the exhibition of architecture, the villa Noailles invites two Hyérois groups to grasp the subject, the works will be presented at the gallery L'Annexe, in the city center in the Parcours des arts.
Hyères en croquis & en dessins and Hyères en photos contribute regularly to the exhibitions and events of the villa Noailles: they were each invited for a full year to capture on the spot the preparations and festivals, and they lend works for the exhibitions.
In the form of a thematic challenge, the members of the groups will freely discuss the architecture of the «interesting house to live in» commissioned 100 years ago by Charles and Marie-Laure de Noailles to Robert Mallet-Stevens.
Artists :
Irvane Perrier, Gérard Amaudric, Thierry Chabiron, Sandrine Laporal, Patrick Péchin, Nicole Salmagne, Julien Orsini, Pascal-Noël Doury, Nathalie Seve, Brigitte Mauger, Sylvie Mazalon, Charles Blanc, Martine Bourletsis, Marie-Christine Stacoffe, Alex Champloy, Beretta, Véronique Noyère