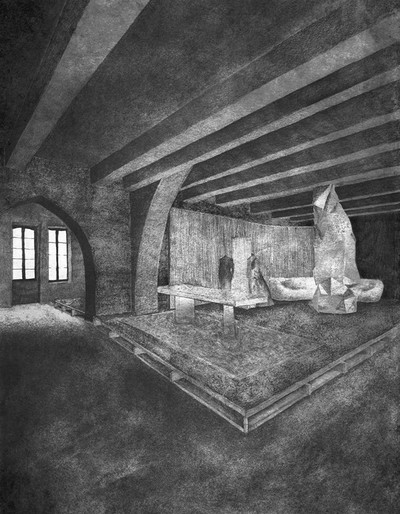 Two letters united as initials to form a single name which radicalness is unequivocal: KO.
Since they met at the Ecole d'architecture des Beaux-Arts, Paris and the subsequent creation of their studio in 2000, Karl Fournier and Olivier Marty sign with their singular writing at every scale of their projects. Classically trained, the duo claims a global and immersive approach to its profession, ranging from architecture and interior design to furniture design. At the heart of its approach, an uncompromising freedom and the challenge to build an unprecedented story, the most in tune with the truth of the context.
Based in Paris and Marrakesh, Studio KO creates all over the world contemporary, public or residential architectures, inspired by the intelligence of places. Far from being confined to a stylistic grammar or any formal systematism, the agency is characterized by an attitude. A great respect for nature and existing cultures, the boldness of the aesthetic wide gap with an attention to craft and local know-how, a constant research for roughness. For an architecture of the oxymoron. Radical and archaic. An architecture of the senses which reveals without arrogance, from the foundations to the olfactory signature, its singularity and mystery.
For every project starting, there is an encounter. First a human one, through the inaugural talk with a commissioner. Secondly, a physical and sensory one through the discovery of a site imposing itself with its landscape, its social and economic fabric. Then comes the time for the dialogue between the elements and the experimentation of an uncharted territory. A work bordering on archaeology, leading the architects to excavate the site and its history to capture its very essence. This long-term creative process enables Studio KO to carve its natural path. This is a prerequisite for the emergence of contemporary, accurate and vibrant forms.
Opting for primary and ancestral materials imbued with the hand of man – stone, wood, metal, leather – the agency builds places in constant tension. Pure lines contrast with the materiality of textures, the rough with the organic, clear with darkness, sophistication with bareness. The vernacular simplicity with modernist spirit. The rough and impressive outdoors of its private villas, mineral monoliths named by a single sibylline letter, stand in contrast with sensuous and transparent indoors which involve its owner in a symbiotic relation with the environment.
Every project is an opportunity for an unprecedented experimentation, for new textures, techniques and lights encounters. In a "here and now" relentlessly calling on the senses and the human.