Centenaire villa Noailles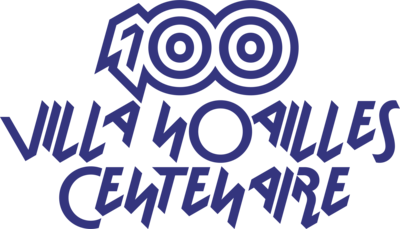 From March 30 to December 31, 2023
A century of History and stories
In 2023, the arts centre celebrates the Centenary of the Clos Saint-Bernard, known as the villa Noailles!
A century ago, Charles and Marie-Laure de Noailles received as a wedding present an extensive land on the heights of the city of Hyères, facing the golden islands, on which they decided to commission young architect Robert Mallet-Stevens for
"a small, interesting house to live in". 2023 will mark the Centenary of this extraordinary architectural adventure, as well as the 50 years of the acquisition of the villa Noailles by the city of Hyères and the 20 years of the creation of the arts centre.
A dense programme launched in March 29th, 2023 will pay tribute to its history and to its illustrious founders. With notably all the artworks collected by Charles and Marie-Laure de Noailles bear witness to their taste and their commitment to support all the artistic disciplines. An opportunity to discover or rediscover this unique and unclassifiable holiday home where the couple entertained friends, artists, and intellectuals and where an extraordinary piece of the artistic and cultural history of the 20th century was written.
For more than twenty years now, the arts centre has been relentlessly supporting and promoting the new generations of artists in the fields of fashion, photography, design, architecture and interior design, thereby perpetuating the history that began one century ago.
Starting March 29, the art center pays tribute to this beautiful artistic history.
Jean-Pierre Blanc, director of the villa Noailles
Éléa Legangneux scientific curatorship and historical research
Program
Launch of the Centenary at the villa Noailles in Hyères
and at the Librairie 7L in Paris
MARCH 30 – MAY 28
" The Clos Saint-Bernard, known as villa Noailles,
1923-2023 "
Ten fragments of Robert Mallet-Stevens' architecture:
period documents and commissions from young architects.
MBL Architectes, curatorship
MARCH 30 – APRIL 30
Portraits of Charles and Marie-Laure de Noailles.
Representations of the Clos Saint-Bernard.
Contemporary artistic commissions.
Photographic commission to Dominique Nabokov
MARCH 30
Launching of the instagram account
dedicated to the history of the Clos Saint Bernand
known as "villa Noailles" and its sponsors,
with the eye of Eléa Legangneux.
JUNE 23 - 25
17th International Design Parade Festival
JUNE 23 – JANUARY 14
The apartment of Charles and Marie-Laure
de Noailles in Hyères
Charles and Marie-Laure de Noailles' apartment
Interior design by Pierre Yovanovitch
Eléa Legangneux, scientific curatorship and
historical research.
JULY 31 (TBC)
Concert "Le collectionneur d'échos"
Unpublished music score by Nicolas Nabokov, piece created
and given by the Noailles in Hyères in 1932, villa Noailles
courtyard.
In partnership with the Festival "Les Nuits du Château de la
Moutte".
SEPTEMBER 16,17 & 18
Musical creation "Ressusciter la Rose"
In partnership with the Opéra de Toulon
Provence Méditerranée, with the generous support of
Aline Foriel-Destezet. Three performances at la villa Noailles
with Vincent Huguet, Raphaël Lucas, Camélia Jordana,
Jeanne Gérard, Bastien Rimondi, Pauline Cheviller, Malik
Djoudi, Patrick Bouchain and the acrobats of the
Wonsembe collective.
OCTOBER 12 – 15
38th International Festival of Fashion, Photography
and Accessories – Hyères
OCTOBER 12 – JANUARY 14 2024
Marie-Laure de Noailles' wardrobe reinvented
by major fashion Houses and young designers in the 21st
century.
NOVEMBER 24 – JANUARY 14 2024
Paul Rousteau "Paul, les peintres et la plage"
photographic commission.
Guest artists : Florent Groc, Thomas Lévy-Lasne, Marion
Bataillard, Diane Dal Pra, Jules Magistry, James Della Negra,
Jean Claracq, Marcos Carrasquer
DECEMBER 8 : Saint Nicholas dinner and party
Decor of Jade Fourès-Varnier et Vincent de Hoÿm.
OFF-SITE EXHIBITION
MARCH 4 – APRIL 30
" Dessins quotidiens" Ronan Bouroullec,
Hôtel des Arts TPM, Toulon
MARCH 22 – OCTOBER 29
Andrée Putman et le Mouvement Moderne
Set design by Olivia Putman
Fondation CAB, Saint-Paul de Vence.
OFF-CALENDAR EVENTS
PUBLIC COMMISSION
Call for projects for the creation of a permanent and visible
installation, a "signal", a symbol of the perpetual evolution of
the building.
Sarah Makharine, portraits and photographic follow-up
of the centenary actions.
La Grâce, le Mérite et la Liberté
A documentary film by Karim Zeriahen
on Marie-Laure de Noailles.
Reconstitution of the furniture of the guest bedroom
designed by Sybold Van Ravesteyn in 1925
In partnership with the Mobilier National.
Republication of texts by Marie-Laure de Noailles,
poems and novels. In partnership with the Librairie 7L
Invited artist of the year Emma Bruschi.
RESTORATION WORKS
Restoration of Gabriel Guévrékian's cubist garden
Restoration of Oscar Dominguez's mural
Restoration of the so-called building
of the "garages".
Restoration of four resident rooms designed
in 2007 by Florence Doléac, François Azambourg, David
Dubois, and BLESS.
Restoration of the swimming pool's terrace
and the hanging garden.
PROGRAMME CULTUREL
Conferences, meetings, readings, workshops, visits in
Hyères and in Paris
EXHIBITION LINKED TO
THE CENTENARY PROGRAM
JULY 8 – NOVEMBER 19
Man Ray, le beau temps
La Banque, Musée des Cultures et du Paysage
14 avenue Joseph Clotis, Hyères.
Tour to celebrate the Centenary of the Villa Noailles in Paris, Hyères and Marseille
As part of the launch of its Centenary, the Villa Noailles, in collaboration with partner galleries and institutions, is organizing a tour of Paris, Hyères and Marseille in tribute to Charles and Marie-Laure de Noailles. Exclusive pieces and a dedicated program in the footsteps of Charles and Marie-Laure de Noailles will be presented in these emblematic places…
PARIS :
Debeaulieu, FLEURS 30, rue Henry Monnier 75009 PARIS et PLANTES & OBJETS 19, rue Victor Massé 75009 PARIS
Sotheby's, 76 Rue du Faubourg Saint-Honoré, 75008 Paris
Galerie de Sèvres, 4 Pl. André Malraux, 75001 Paris
Didier Ludot, 5 Rue du Marché Saint-Honoré, 75001 Paris
Vitrines du Ministère de la Culture, Place du Palais-Royal
Galerie du Passage, Pierre Passebon, 20 Galerie Véro-Dodat, 75001 Paris
Maxime Flatry, 33 Rue Guénégaud, 75006 Paris
Écart international, 18 Rue Jacob, 75006 Paris
India Mahdavi, 29 RUE DE BELLECHASSE 75007 Paris
Galerie Lefebvre, 5 Quai Voltaire, 75007 Paris
Librairie 7L, 7 rue de Lille 75007 Paris
Double V Gallery, 37 rue Chapon, 75003 Paris
Galerie 54, 10 Rue Mallet-Stevens, 75016 Paris
Fondation Giacometti, 5, rue Victor Schœlcher 75014 Paris
le19M, 2 Pl Skanderbeg, 75019 Paris
HYÈRES :
Galerie Elisabeth Serre, 9 Rue de la République, 83400 Hyères
Un brin c'est tout !, 12 Rue de Limans, 83400 Hyères
Sous les Palmiers, 26 Rue Massillon, 83400 Hyères
Atelier D'un Siège À l'Autre, 18 Cr Strasbourg, 83400 Hyères
Melle colibri, 11 Pl. Massillon, 83400 Hyères
Côté Déco, 3 Rue des Porches, 83400 Hyères
La Banque, musée des Cultures et du Paysage, 14 Av. Joseph Clotis, 83400 Hyères
Le Quai, place Clemenceau
Office de Tourisme d'Hyères, Rotonde du Park Hotel, 16 Av. de Belgique, 83400 Hyères
Maison Godillot, 11 Av. des Îles d'Or, 83400 Hyères
Pour Vous, 24 Av. des Îles d'Or, 83400 Hyères
Racine L'atelier Végétal, 20 Av. des Îles d'Or, 83400 Hyères
L'imaginerie du photographe, 12 Rue Portalet, 83400 Hyères
Librairie Olbia, 4 rue du Soldat Bellon - Centre Olbia 83400 Hyères
Particules complémentaires, 5 rue de la République 83400 Hyères
May Vintage, rue de Limans, 83400 Hyères
Aurelia Belnet Poterie, 3 bis rue du temple, 83400 Hyères
MARSEILLE :
Double V Gallery, 28 Rue Saint-Jacques, 13006 Marseille
Jogging store, 103 Rue Paradis, 13006 Marseille
Southway Studio, 433 Boulevard Michelet, 13009 Marseille
Marion Mailaender, 28 Rue Neuve Sainte-Catherine 13007 Marseille
Cabane Georgina, 2 Chemin du mauvais pas, 13008 Marseille
Galerie Kokanas, 53 Chemin du Vallon de l'Oriol, 13007 Marseille
Montevideo Marseille, 3 Imp. Montevideo, 13006 Marseille